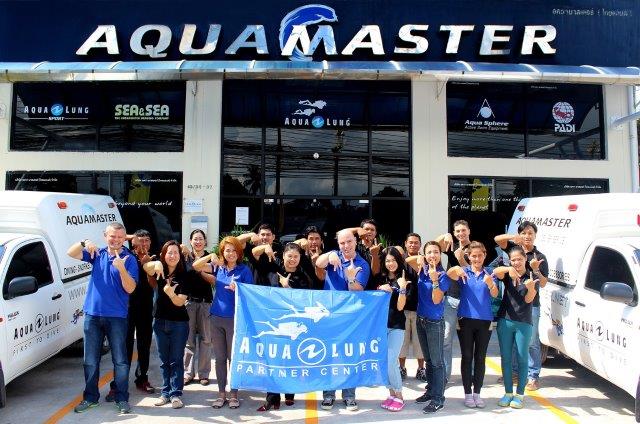 Leading distributor of Diving equipment in Thailand, we are the sole distributor for Aqua Lung, No.1 manufacturer worldwide. Based in Phuket, Bangkok, Koh Samui & Koh Tao, Aqua Master is a dynamic and fast growing company and we are always looking for motivated people to join our team.
Interested in joining us? Please check out our job opportunities below and If you think that your personality and skills fit any of the jobs, contact us to take your chance to be a part of our Team. The right candidate would be offered a great package including competitive salary, paid expenses, 22 days holiday a year, 5 ½ day week, social security, secure long term employment and various employment benefits / bonus schemes.
We are currently recruiting for:
Please click on the job titles below to see more details…
Driver - Phuket
บสมัครพนักงานขับรถ
บริษัท อควา มาสเตอร์ (ไทยแลนด์) ตั้งอยู่ที่อ่าวฉลอง จ.ภูเก็ต เป็นบริษัทประกอบกิจการนำเข้าอุปกรณ์ดำน้ำและอุปกรณ์กีฬาทางน้ำ ในเมืองไทย
ตำแหน่งพนักงานขนส่งสินค้านี้จะทำการขนส่งสินค้าในพื้นที่เกาะภูเก็ตมีหน้าที่จัดสินค้าและขนสินค้าขึ้นลงรถเพื่อจัดส่งให้กับลูกค้าและสถานที่
ขนส่งต่างๆ รวมทั้งช่วยจัดและขนสินค้าเก็บเข้าคลังสินค้า ต้องการผู้มีประสบการณ์และใบอนุญาตขับขี่รถยนต์และมีอัธยาศัยดีสามารถเข้ากับ
ผู้ร่วมงานอื่นได้ดี และหากสามารถพูดภาษาอังกฤษได้จะพิจารณาเป็นพิเศษ
เวลาทำงาน วันจันทร์ เวลา 08.00-18.00 วันเสาร์ เวลา 08.00-13.00 มีวันหยุดในวันอาทิตย์
คุณสมบัติเป็นคนไทยที่มีอายุ 25 ปี ขึ้นไป ทั้งนี้ขึ้นอยู่กับความรู้ ประสบการณ์และผลงาน
ถ้าหากคุณมีคุณสมบัติและประสบการณ์ตามที่เราต้องการ  กรุณาติดต่อ   คุณ สมฤดี  งามสุวรรณ์  โทร. 076 281 227 หรือ 081 270 4819  อีเมล์ Click here
Recruiting for 1 Packing/Drivers – (September 2016)
Located in Chalong, Aqua Master is a leading importer of Scuba diving and snorkeling equipment in Thailand.
This position will involve mainly deliveries around Phuket Island. You will be responsible to load and unload the truck, participate to the shipment arrival and carrying to the stock. Previous driving experience and English speaking is a plus.
Typical hours will be Monday to Friday 8:00 to 18:00, Saturday 8:00 to 13:00
The position is for Thai Nationals. 25 years old and up. Fix salary
You have a professional attitude and dedicated person; please contact Khun Keang at Tel. 081 270 4819 or by email clicking here
Apply here
Use the form below to apply for one of the positions listed above.