Description
DIVING COMPRESSOR ATLANTIC SERIES by NARDI Compressor
BREATHING AIR is a range of High-Pressure Compressors that includes several models designed & manufactured by NARDI COMPRESSORI to provide breathing air for the filling of scuba diving cylinders. ATLANTIC is a highly efficient and mechanically strong compressor and at the same time, it is compact and easy to carry around.
QUALITY OF COMPRESSOR BLOCK
The compressor block, or pump unit, is the heart of the ATLANTIC compressor. This is a critical component on which NARDI has put an important technical effort. Its features among which, the use of light alloys with high thermal efficiency, the aluminum alloys also used for the compressor block, and all components are made of anticorrosion and quick heat dissipation materials.
The crankshaft bearings are all made in Europe and their high quality guarantees the compressor a longer lifetime. Cooling of the compressed air is done through the interstage aluminum and stainless steel cooling coils system. This is a small-sized compressor with 4 compression stages with all piston rings made in cast iron providing high performance over time.
EFFICIENCY OF THE FRAME
The frame is designed to reduce weight and dimensions, making the compressor light and portable, with an aluminum frame that is coated with epoxy powder paint. The powder coating and stainless steel components protect the compressor against corrosion also in marine environments.
PURITY OF FILTRATION
The compressor is equipped with a filter and a separator that guarantees the quality of breathing air in conformity with the UNI EN 12021:2014 standards.
ECONOMY
Everything in the compressor is designed to optimize both the operating as well as labor costs. When the compressor is working, thanks to its NARDI-designed automatic condensate drain, equipped with a
unique patented SLOW FLOW SYSTEM, there is a reduction of the quantity of gas expelled with an 80% saving on pressurization of the entire system.
FILLING VALVES
The compressor comes with high-pressure filling valves with several different connectors both for 200 Bar as for 300 Bar. These components are very easy to use. In fact, with a simple turn of the knob, you can close the air passage and depressurize the valve to be able to disconnect the cylinder. All technical data may be changed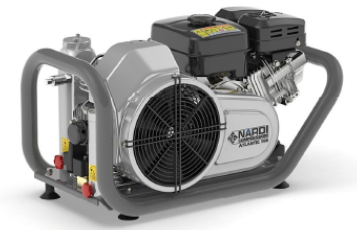 MADE IN ITALY BY NARDI COMPRESSOR